About Us
The National Agronomic Environmental Health & Safety School is a non-profit organization of dedicated industry and government volunteers whose mission is to provide industry personnel with training and information that will aid them in meeting state and federal regulations.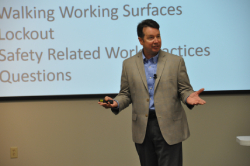 Established in 1978, the "Safety School" offers quality training and educational presentations to create better awareness of best management practices that bolster regulatory requirements involving fertilizer and crop protection chemicals. Participants have come to rely on current and accurate training on the various environmental, health and safety issues associated with the operation of agribusiness. The spectrum of training offered covers timely information on transportation and security issues.
The Board of Directors focuses on the needs of the school's participants, producing relevant and timely annual programs covering a broad spectrum of regulatory and compliance topics. Although the agricultural industry has undergone many changes, the need for quality and timely training remains strong. Regulatory compliance issues have become a significant challenge at all levels and the National Agronomic Environmental Health & Safety School remains focused on meeting the needs of the agricultural industry.